Support NMU physics students IN TOP 10 in a video competition
Two Nelson Mandela University 2nd year physics students have participated in an international (sub-Saharan) video competition "Atoms4Africa" run by Rosatom Africa.
Out of 66 videos entered for the competition, the video of Tamera and Elizabeth from NMU has been selected as one of the Top 10 and they are the only South African team competing. The final winners will be determined by the number of "likes" that they will receive from supporters until Tuesday 5 November.
Please support the South African students by going to the following link,
https://www.facebook.com/1476795302603512/posts/2476025736013792?sfns=mo
and then "like" video number 10. Positive comments are also very welcome.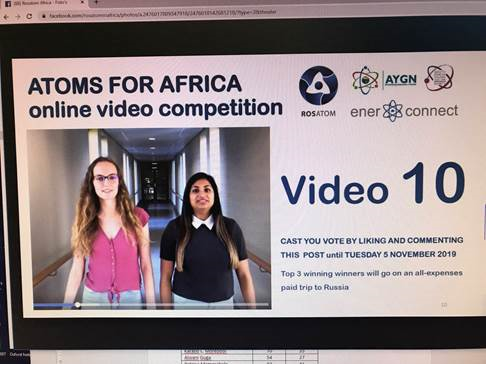 The video entered by Tamera and Elizabeth can be found at
https://www.facebook.com/tamera.morgan.9/videos/2550497331668835/UzpfSTkyNjk1Nzk3MDY2MzkyMzozMTI1MTM4MjY0MTc5MjA1/